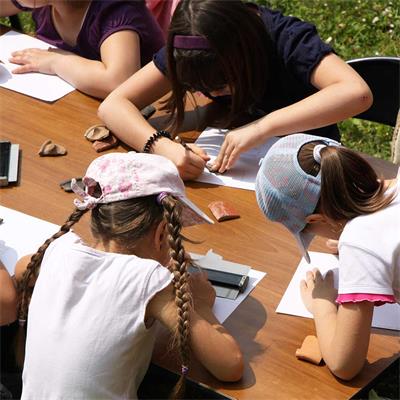 The proposals aimed at schools are designed to provide insights or create connections between the different school disciplines, generally taking a cue from the examination of one or more works in the museum and integrating with further documentation and visual stimuli. In addition, the museum is available, at the request of teachers, to develop specific paths also aimed at a broader knowledge of the territory.
During the activities, we tend to encourage the learning of visual language, encouraging students to express themselves and confront each other. Furthermore, the aim is to avoid passive fruition by not limiting the approach to the works to classical / academic reading only, but by providing suggestions to arouse a more in-depth and targeted observation and also fielding the emotional aspects.
The workshops provide for direct experience with various materials and multiple artistic techniques, leaving ample space for experimentation and individual inclination.
The teaching methodology is the same for schools of different levels and levels, while the language is calibrated on age.