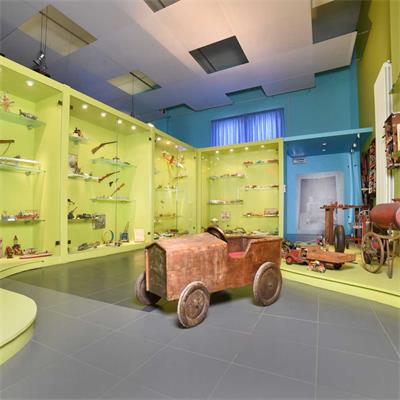 In the green room we find the games that animated boys' childhoods: soldiers and toys of military inspiration (bows, arrows, rifles, tanks, guns,...), tin toys reproducing the means of transport of the time (cars, motorcycles, coaches, work vehicles, trains and ships,...), five-a side-soccer and table soccer, pinball and bowling.
While the girls were supposed to play with dolls to train as  good mothers-to-be, boys were encouraged to military practice, as the aspects of physical and moral development were considered  as paramount. The manufacturers of toys, have proposed at all times, both in artisan form and in the most advanced industrial construction, all sorts of military items.
Among the typically boys' games we find also the means of transport : car small scale reproductions  of existing specimens, the first in metal (lithographed or hand painted) motorcycles and ships rich in accessories
Many of the toys on display here were intended for children of wealthy families but there are examples of more popular games such as the typical sling, darts, an old wallet used to make tricks, the bowls, the pram transformed by a father into a toy bus and a workbench  reproduction in reduced scale of daddy's, with small working tools that allowed boys to  make real objects unlike the current plastic toys used only to play.