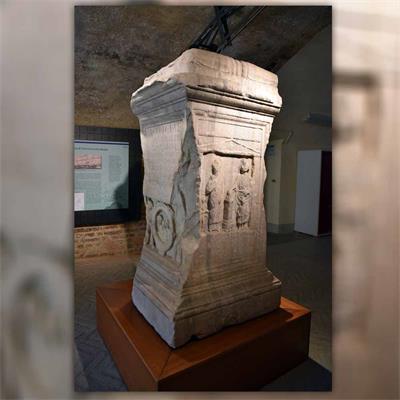 The archaeological section, dedicated to the city of Pollentia, originates from the collection created by Euclide Milano and basically consists  of "memorabilia" offered by private citizens or purchased at the local antique market; some "ruins" preserved in the royal estate of Pollenzo were granted in deposit (1919 and 1920) by the Ministry of the Real House.
Later on some finds which were discovered from time to time  and in the course of excavations conducted several times by the Archaeological Superintendence and, in the 1950s and 1960s, by Edoardo Mosca to whom the archaeological section was dedicated.
The tour route runs on two floors of the building. On the ground floor there are the stone and epigraphic finds including architectural fragments, a sarcophagus, a funeral altar and stelae, including that of the merkator vinarius (wine merchant) and that of the purpurarius (cloth dyer).
On the second floor the finds attesting the settlement of the territory in the pre-historic period follows the documents on Pollentia, founded by the Romans on the bank of the Tanaro towards the end of the second century B.C. until its transformation in the late ancient and medieval ages.
They illustrate the urban events of the city with its monuments and the necropolis around it;  various objects of different materials  (e.g. ceramics, glass, metal), making up of the graves laid in the burials offer us a glimpse of the daily life of the time.
A fish-shaped early Christian oil-lamp as well as the funeral equipment date back to the late ancient age of a woman of Germanic-oriental origin (half 5th  sec. A. D.), the so-called "Lady of Pollenzo" date back to the late-ancient age.
The tour ends with  the exhibition of  a part of the numismatic collection, consisting of ancient, medieval and modern coins, as well as the collection of medals of the Papal States donated by Don Giuseppe Tornatore.