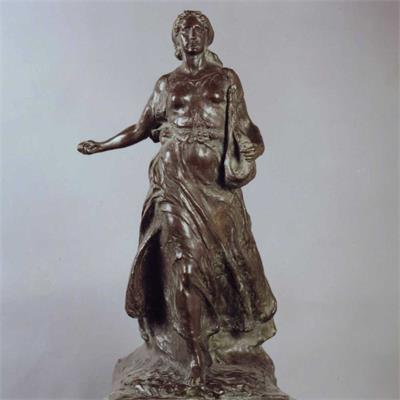 In the two small rooms there is a selection of paintings and sculptures destined by Euclide Milano to the "Art" section of the Museum he founded to "give aesthetic enjoyment to  humble people who have no way to beautify the house of works of art". The primitive "small artistic environment" over time expanded thanks to donations and purchases of works, mostly by artists of the nineteenth or early twentieth century, including  artists from Bra. The paintings on display reveal Milano's taste, which preferred academic artists and looked  sceptically at the most innovative aspects of the artistic culture of the time, the "various new styles".
Among the paintings on display are:  (brother of the saint) the portrait of the Surveyor Francesco Traversa, that of Cavalier Bondetto and aunt Vittoria Cottolengo Fissore by Agostino Cottolengo (the saint's brother); the Portrait of a man in military uniform by Giacinta Ferrerp Fasolis;  the Persian Landscape by Giovanno Giarlotto copy  of Alberto Pasin from Parma;  Snow by Matteo Olivero; Deceived Souls by Filippo Omegna;   On the Square in front of the  Zizzola by Filippo Vacchetti; The Widow with the chrysanthemums by Luigi Serralunga;  The medal to the military valour by Antonio Piatti;  Mountain Lake by Giuseppe Augusto;  The portrait of Luciana and Riccardo B by Gioachino Nogaris.
Among the sculptures we remember: The bronze statuette of the Sower by Edoardo Rubino;  the small bronze statuette Youth and the Young Blacksmith by Celestino Fumagalli  (gift of a group of Braidesi - 2019); by Carlo Ravera two plaster bas-reliefs and one in bronze (the portrait of Euclide Milano placed at the entrance of the main floor of Palazzo Traversa; The plaster bust Malatino by Angelo Frattini.