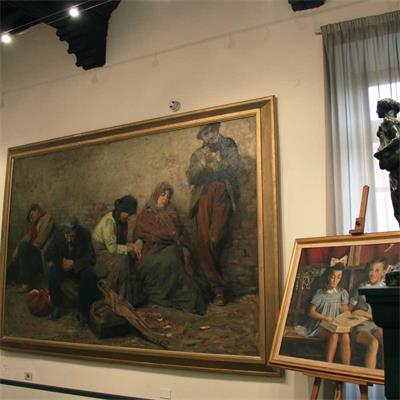 In the reorganization of the museum in the headquarters of Palazzo Traversa the number of sections created by Euclide Milano has been reduced to two. The section dedicated to Pollentia, which was named after  its founder, has been preserved and the artistic and historical collections have been merged, while  trying, as far as  possible, to recall his idea. Therefore, the people involved in the setting-up  had to make choices, taking the great variety of the works with respect to the limited extension of the exhibition spaces into account.
On the first floor the hall houses paintings of the seventeenth and eighteenth centuries, which include works in Caravaggio style (two altarpieces of the circle of Giovanni Antonio Molineri and two copies of Valentin de Boulogne), portraits of savoy noblewomen and gentlemen  (including Maria Cristina and her sister Henrietta of France) and an example of a "bambocciante" genre attributed to Pieter Bolckman.
With regard to  the small adjacent rooms  paintings and sculptures from the 19th  and 20th century were selected , considering the artistic personality and the quality of the works, including portraits made by Agostino Cottolengo, the paintings of Filippo Omegna, Matteo Olivero, Filippo Vacchetti, Luigi Serralunga, Giuseppe Augusto Levis, Antonio Piatti, Gioachino Nogaris and bronzes by Celestino Fumagalli and Edoardo Rubino.
Other rooms host portraits of famous men from Bra, collected by Euclide Milano for educational purposes, as well as some views of Bra.
A small room is entirely  devoted to Giovanni Piumati from Bra in  to celebrate his work as landscape painter and scholar of Leonardo da Vinci.